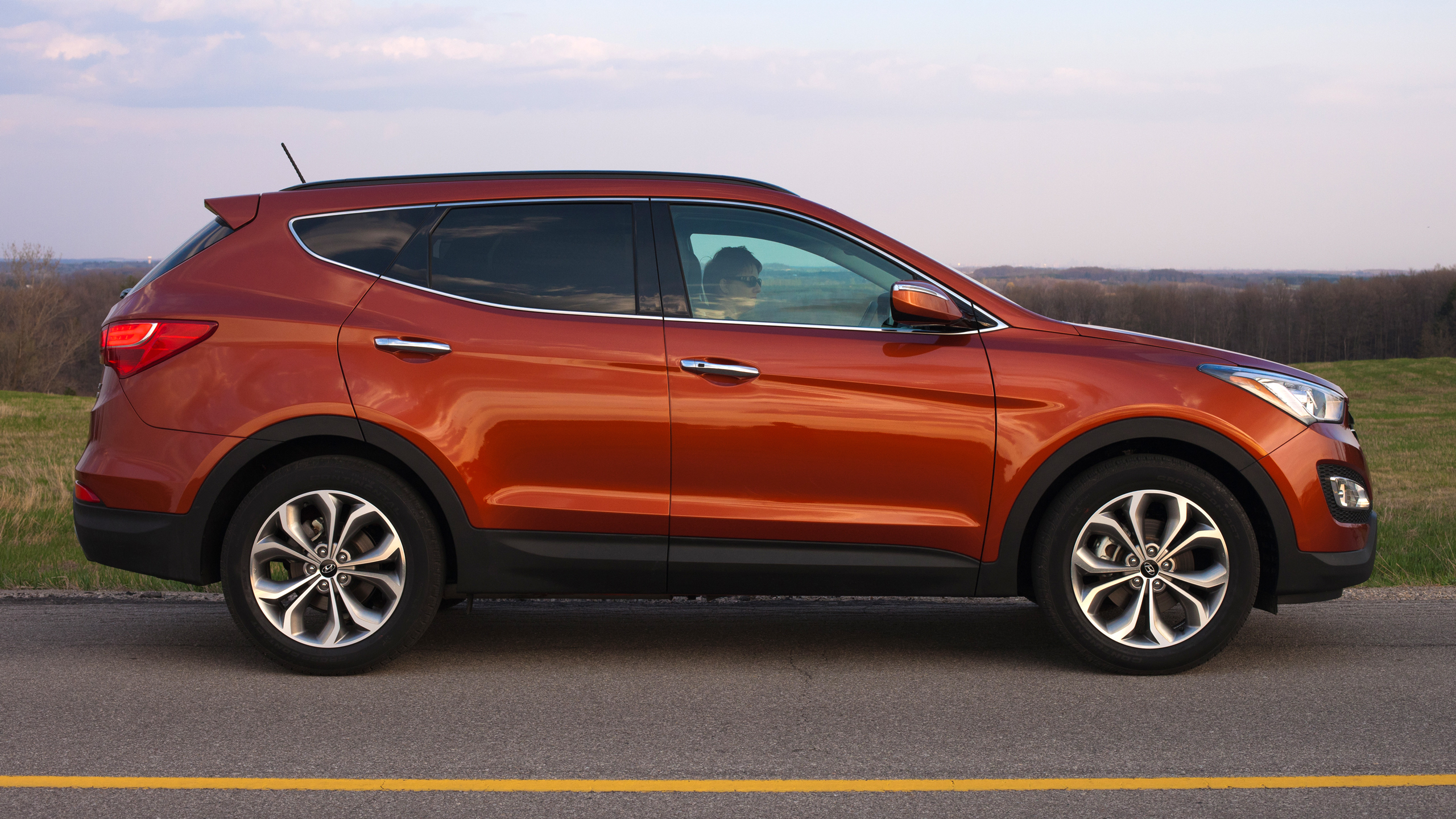 2015 Hyundai Santa Fe Sport 2.0 Turbo Limited in Canyon Copper
These are my own notes for my own vehicle. Use at your own risk. Always consult your vehicle's official manual.
Oil, Canadian Climate

5W30
(For turbo engines, a high quality synthetic oil such as Mobil 1 or Royal Purple is recommended)

Wheel lug nut tightening torque

65 – 79 lb*ft / 9 – 11 kg*m / 88 – 107 N*m

Stock OEM Rims & Tires

Bolt pattern: 5 x 114.3mm
Center Bore: 67.1mm
Lug nut thread size: M12 x 1.5mm

The 2013 to 2016 Sante Fe was available with 2 different wheel sizes, depending upon what trim level you purchased

Wheel / Rim Size
Tire Size
Tire Brand and Model
17×7.0J
Offset: 47mm
P235/65R17
?
19×7.5J
Offset: 49.5mm
235/55R19
Continental ContiCrossContact LX Sport


19″ x 7.5″, 49.5mm offset, OEM Hyundai Alloy Wheel

that came standard on the 2013 to 2016

Santa Fe Sport 2.0 Turbo SE and Limited models

17″ x 7″, 47mm offset, OEM Hyundai Alloy Wheel, Part #52910-4Z175
Seen here being trial fitted to a 2015 Santa Fe Sport 2.0 Turbo
to check for brake clearance. As you can see, there is plenty of
room for the brake caliper, even with the tiny 17 inch rim mounted.

Tire Pressure
34 psi / 235 kPa under all loads
Light Bulbs
Rear Turn Signal: PY27W (Clear, single filament, 12V, 27W). Sylvania 1156 (Good). Sylvania 1156A (Last resort. Is colored red: Original OEM bulb was clear).