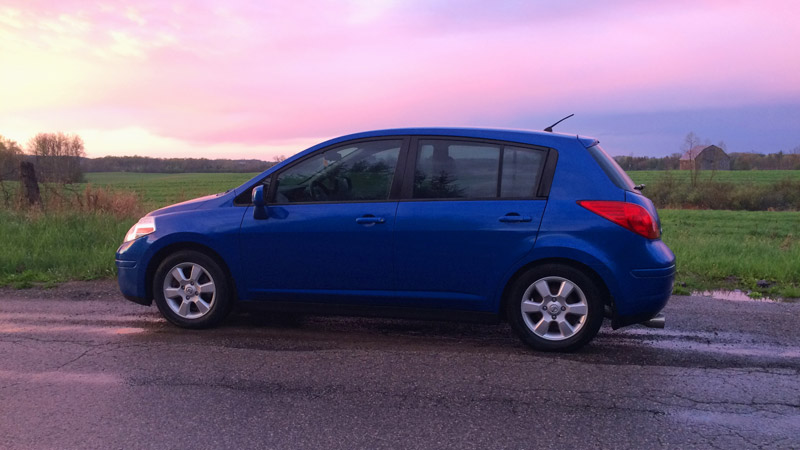 2007 Nissan Versa 1.8 SL Hatchback in Blue Onyx Metallic
These are my own notes for my own vehicle. Use at your own risk. Always consult your vehicle's official manual.
Compatible Oil Filters
Quaker State QS14612
Engine Oil, Canadian Climate

5W30
3.9 litres / 4⅛ qt with filter change
3.7 litres / 3⅞ qt without filter change Oil pan drain bolt: 14mm

Tire Pressure

33 psi / 230 kPa, front and rear tires

Wheel Lug Nut

Tightening Torque: 83 ft*lb / 113 N*m
Thread: M12 x 1.25

Stock OEM Wheels / Rims

Wheel Size: 15″ x 5.5″ JJ
Bolt pattern: 4 x 114.3mm
Offset: +40mm
Center Bore: 66.1mm

Stock Tires

P185/65-15

Spark Plugs

Nissan part #:FXE20HR11
Gap: 0.043in / 1.1mm

Manual Transmission Gear Oil

ELF XT4447 M+ 75w80 or API GL-4, SAE 75w80

Lights

Front & Rear Turn Signal: Sylvania 7507/PY21W

Things every Versa Owners Needs to Know

Suspension Problems

Before switching to an aftermarket suspension, the front springs on my 2007 Versa's suspension broke three times over 200,000 km. The springs crack 2 or 3 inches from the top of the spring. This is not immediately dangerous: you can still keep driving. However, since the front of the car uses a MacPherson strut suspension, having the spring be slightly too short induces a few degrees of negative camber in the suspension (the wheels no longer sit flat on the ground but have a "duck stance"). This causes the front tires to wear unevenly, and can accelerate wear on the suspension and components like wheel bearings.

At 210,000 km my car required major surgery on the front of the car: new springs, dampeners, ball joints, and a new wheel bearing. I wanted to ensure that I would never have to replace the front springs again, so instead I installed a set of Tanabe TSC123 Sustec Pro S-0C Coilovers, which have been excellent. The car was lowered one inch in the front and a little more in the rear, and I had the alignment corrected and the car corner-balanced. Cornering ability is definitely improved, and the ride isn't too harsh: my Infiniti G35 Coupe with the factory sport suspension had a far worse ride when driven on pothole-ridden roads.

Engine Tick

A common problem with the MR18DE engine is the "Dreaded 3rd Cylinder Piston Slap", which sounds like a tapping or knocking noise that is most noticeable in cold weather at low RPMs. My Versa has 210,000 km on the engine and in the winter I can hear a little bit of piston slap, but overall the engine has been strong, reliable, and has always returned excellent fuel efficiency.

However, if the engine ever fails, I plan to swap-in a Nissan MR20DE Engine. The power plant is nearly identical to the MR18DE in Versa. The only major difference is that the stroke of the cylinders has been increased to achieve an additional 0.2 litres of displacement. Others have already successfully swapped a MR20DE engine into a Nissan Versa, and it sounds like the engine mounts, transmission mount and — most importantly — the wiring harness all mate-up without the need for major modifications.